Manny Pacquiao has been in the news this week having made some homophobic comments in public which have rapidly spread around the world, hugely damaging his reputation.
A reputation is difficult to develop – often taking years to solidify in people's minds – and can be damaged in an instant. For example today Manny Pacquiao has lost his lucrative endorsement deal with Nike after making anti gay comments to the senate in the Phillipines where he is campaigning for a seat.
He said "It's common sense. Will you see any animals where male is to male and female is to female," Pacquiao said during an appearance on the Filipino station TV5. "The animals are better. They know how to distinguish male from female. If we approve [of] male on male, female on female, then man is worse than animals."
Manny Pacquiao has been a popular boxer for many years, having grown up in tough circumstances and overcoming poverty in order to be world champion. He dropped out of school to provide for his siblings and at one stage was living on the streets in Manilla. He is the first and only eight-division world champion and has been rated the best pound-for-pound fighter in the world many times.
However, his recent comments and subsequent Tweets have severely damaged his reputation, having lost a major endorsement deal with Nike today. He has spent many years building his reputation for it to now be in a perilous position.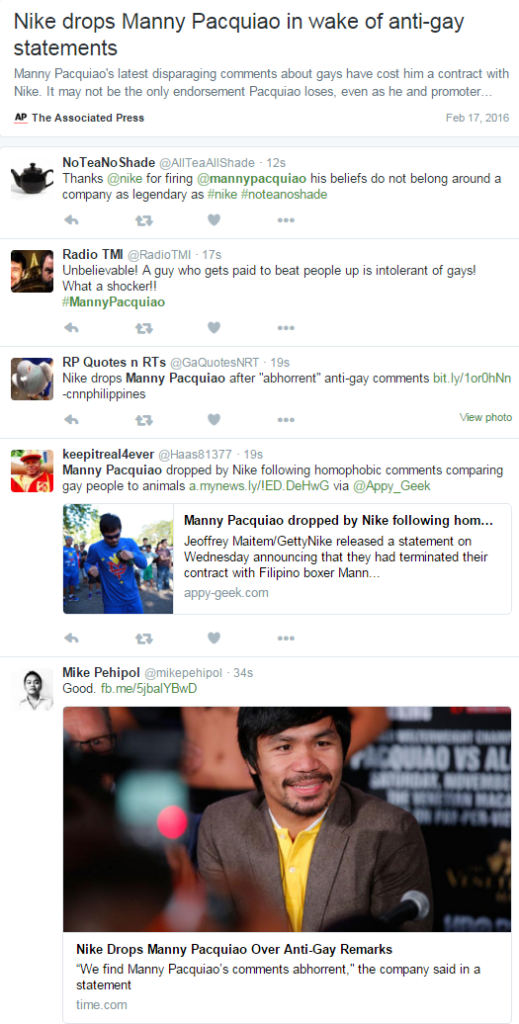 In a statement, Nike said it found Pacquiao's comments "abhorrent."
"Nike strongly opposes discrimination of any kind and has a long history of supporting and standing up for the rights of the LGBT community," the statement read. "We no longer have a relationship with Manny Pacquiao."
Manny Pacquiao has now issued an apology, but he is still receiving a huge amount of negative press online:
''I'm sorry for hurting people by comparing homosexuals to animals. Please forgive me for those I've hurt. I still stand on my belief that I'm against same sex marriage because of what the Bible says, but I'm not condemning LGBT. I love you all with the love of the Lord. God Bless you all and I'm praying for you.''
With social media moving so quickly, one negative article or comment about you or your brand can really harm your reputation and business prospects. It is essential in these situations to act quickly and strategically in order to minimize the damage. It remains to be seen if Manny Pacquiao can rebuild some of his business relationships as well as his popularity within the boxing community and beyond.
If you are facing negative publicity online and are not sure how to manage the situation, please contact our team here at Reputation Station who can devise a strategy to minimize damage and repair your online reputation.
Call us now on 1800 622 359 to discuss your reputation with our team today.